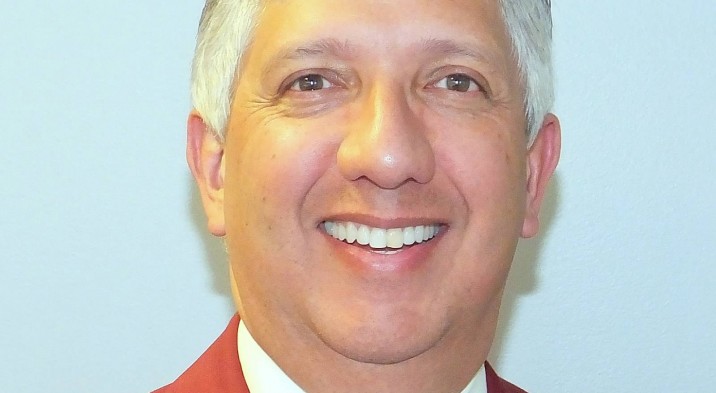 My Fellow Lions,
There are many reasons why people join the Lions Club. Some join for the social aspects, wanting to work alongside their friends and neighbors. Others join to network and create business contacts. I believe, though, that the majority of us join to improve our communities and make a better world for our children and grandchildren.
For many years, our youth have been a primary focus of Lions worldwide. As a family man, it just so happens that youth, in particular, my three daughters, have been a focus of mine. When I first joined the San Bruno Lions Club, my eldest daughter, Christine, was 8 years old, Rachel was 4 and my youngest, Michelle, had not yet been born. They have literally grown up in Lions.
My daughters have always enjoyed being a part of our Lion activities, especially going to conventions. They see the fun and camaraderie between our members. They also don't mind seeing their old man making a spectacle of himself on the stage during the amateur skit and barbershop quartet. For my part, though, and more importantly, they are aware of the purpose of the club, which is to serve. While they may not always acknowledge it verbally, they see what we do to help our neighbors. My mother, Isabel, was a Lion and both my grandmother and father were also involved in community service. I believed that they served as a model for me growing up.
As the Crosby, Stills and Nash song goes: "You who are on the road must have a code that you can live by…" and it calls on us to "teach our children well". An important part of our lives is to instill in our children and grandchildren a sense of social responsibility and the desire to do good by helping others.
Lions Clubs offer many programs for youth and I think that it is important to involve our children and grandchildren whenever possible and to support the programs that bring the younger members of our society into the area of community service while introducing them to Lionism.
An easy way for our clubs to get involved with youth programs is the Peace Poster contest. No matter where your club meets, no matter where you're located, there is an elementary or grammar school near you. Peace poster kits are inexpensive, only $11.95, and it only requires that you contact your local school or after-school program to get children to participate. Not only does it nurture the children's creative side, it gets them thinking about the virtues of peace while introducing them (and, possibly, their parents) to Lionism. It's not too late to order Peace Poster kits for this year. They are available from the LCI website store. It is important to read the contest rules carefully. Contact District Peace Poster contest chair Lion Adlai Jew of the SF Supreme Lions Club (adlaijew@gmail.com). The deadline to order is October 1, 2017, so order your club kit today!
Another program which has been a favorite of mine for many years is the MD4 Student Speaker Contest. This program is for high school students and allows them to practice their public speaking skills while giving them a chance to earn cash prizes and scholarships, as much as $21,000. The total cash payout from the SS Foundation is over $100,000 each year. Again, the kits can be ordered from the foundation and are available for free. It costs the club $85, payable to District 4-C4, and small cash prizes to the students that take part. Not only do the students learn valuable public speaking skills and become familiar with Lions but their parents and teachers come to hear them speak as well, giving us an opportunity to introduce them to our organization. Yes, let's show them what we do for the community and ask them to join us! The District Student Speaker Chair is Lion Alan Hafter. He can be reached at alanh65@gmail.com. We also have as trustees to the Student Speaker Foundation Lion Rich Picchi, PDG Jack Van Etten and IPDG Rod Mercado. Please contact them to find out how your club can participate in this program. Lion Alan is ready to help any club wishing to start taking part in this program. This year's contest topic is "Integrity and Civility Play What Role in Today's Society?"
This summer, my wife, Lion Rose, my daughter, Michelle and I had the pleasure of escorting some young exchange students from Europe and Japan. Our part in the Youth Exchange Program is very small but we found it extremely enjoyable to spend time with our young guests. We learned about their country and they learned about the United States and our customs. The youth exchange works in both directions so if you have a child or grandchild who might be interested in spending a part of the summer abroad or if you are interested in either hosting or escorting visiting teens, contact Lion Dr. Jun Valera (lifesaver58@hotmail.com). He runs a fabulous program and is always looking for new blood (Forgive the pun, Doc!)
Of course, we have an active Leo Club program and, last year, under then-DG Rod Mercado, a Leo District was formed which is governed by Leos under the guidance of Leo Program Chairs Charles "Smitty" Smith (Montanasmitty102@netzero.com) and Frank Tang (ftang168@yahoo.com). If your club has an interest in helping your local high school students learn about community service, drop them a line or give them a call.
It has always been said that our children are our future. We must invest in our future! Please take the time to learn about the many programs for youth available through Lions Clubs
International.
Yours in Lionism,
Lion Mario Benavente
District Governor
District 4-C4