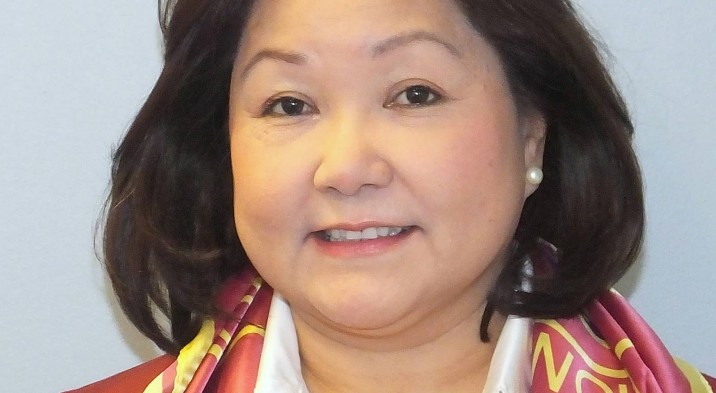 Dear Lions of District 4-C4,
Warm greetings to all fellow Lions, families, friends, colleagues and everyone!
First of all, I would like to greet you all a wonderful day and hope that you are all doing well. Well, February is very famous as the month of hearts and happy moments to celebrate love, care and affection to our love ones. Indeed, February 14th Valentine's Day is a very special day for most young couples, including mature and older couples to celebrate their romantic love and affections to each other. For Lions, February also means a special month of sharing our love, care and humanitarian service to other people who are in need, especially the less fortunate children, individuals and families. Well, a happy and wonderful Valentine's Day to everyone!
As Lion members, we strive to continue provide a more efficient, effective and quality humanitarian services to the diverse, multicultural and disadvantaged individuals and communities that we serve. The District 4-C4 has 55 Lions Clubs from San Francisco to Palo Alto that are all actively involved in humanitarian volunteer services to other people, both here locally and in abroad. Some of the humanitarian volunteer services and projects include the following: Vision and Eye Sight project, Feeding and Food for the Needy, Diabetes Awareness, Cancer project, Children and Youth projects, Student Speakers Contest, Pre-School project, Water project, Medical Mission, and other Health and Wellness projects. I would like to extend my deepest thanks and appreciations to all Lions Clubs Officers and Members for your continuous dedications, loyalty, teamwork, and efforts in providing volunteer services to other people.
A strong Leadership is very essential to the success of an organization because a strong Leadership can grow and sustain memberships, that can delivers appropriate humanitarian services to the diverse and multicultural individuals and groups whom we serve. The Lions Club International supports Leaderships training for Lions Clubs Officers and Members. The LCI Lions Leadership Institute, MD4 Leaderships Institute, and District 4-C4 GLT/GMT continue to provide Leadership training to Lions Clubs Officers and Members, in order to enhance strong Lions Leaderships. The MD4 Leaderships Institute had recently provided Leadership Training in Fairfield, CA. last January 20-22, 2018. The Leadership training was well attended by several Lions from the different Districts in MD4. About 9 Lions Officers and Members from the District 4-C4 had attended the recent Leadership Training. Moreover, the recent MD4 Council of Governors last February 7-8, 2018 and MD4 Annual Convention last February 9-11, 2018 were well attended by many Lions in California and some guests from the LCI.
I would like to share some learning insights that I learned from the recent MD4 Leaderships Training. The topic that I would like to share in this article is about the Diversity. Understanding Diversity is important because Lions Clubs reflects the diversity of our community. Diversity means that we recognize and understand that we have similarities and differences from one another. There are two dimensions of Diversity, which consists of the primary dimensions and secondary dimensions. The primary dimensions of Diversity are the qualities that are different but cannot be changed such as the following: race, color, ethnicity, DNA, age, disabilities, family, and others. The secondary dimensions of diversity are the qualities that are different but can be changed such as the following: political affiliations, behavior, attitude, education, skill, work, sex/gender, religion, partner, food, and others. It is important to respect and accept the Diversity of individuals.
I encourage all Lions Clubs Officers and Members to take the opportunity to attend the Lions Leaderships Training. The on-line Lions Leadership Courses are very accessible, you can do it in your own place and free time. Lion Leaders and Members can learn valuable Leadership knowledge and skills at the Lions Leadership Training and On-Line courses. Future training opportunities for Lion Leaders and Members includes the following: MD 4 Lions Leadership Training in Ontario, CA on March 10-12, 2018; MD-4 Leo Leadership Institute in Lions Camp Teresita Pines on April 13-15, 2018; USA/Canada Lions Leadership Forum, Leadership Training in Columbus, Ohio on September 20-22, 2018; Faculty Development Institute, and Emerging Lions Leadership Institute in Fredericton, NB, Canada on May 5-7, 2018. On-Line Leadership Courses are available at the www.lionsclubs.org. Click on Member Center, and click on Leadership Development. For more Leaderships Training information you may contact institutes@lionsclubs.org
Lions Club International is one of the largest humanitarian organizations in the world. LCI has strong Leaderships, great memberships and quality humanitarian volunteer services. We should take the pride and happy as members of the Lions Club International. Together, we continue to serve with compassion, advocacy, empowerment and excellence.
Thank you and God bless everyone.
Lion Helen Ariz Casaclang