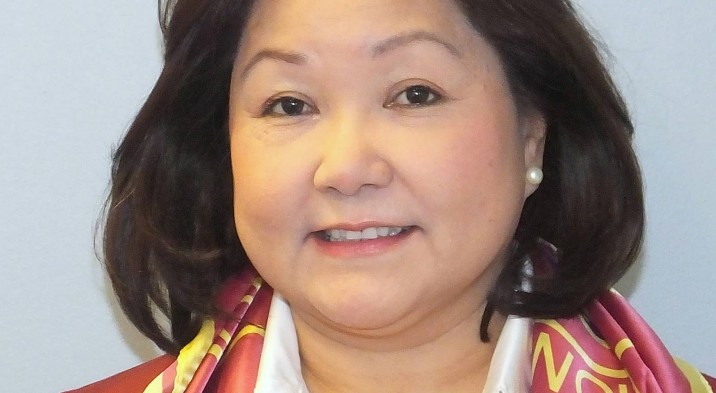 Dear Lions of District 4-C4,
Warm greetings to all fellow Lions, families, friends, colleagues and everyone!
First of all, I would like to express my sincerest thanks and appreciations to all the District 4-C4 Lions Clubs' Officers and Members for all your outstanding support, contributions, loyalty and dedication in providing great humanitarian volunteer services to other people in need. My special thanks to our wonderful District Leader, District Governor Mario Benavente, all Cabinet Officers and Members, and all the Past District Governors for their continuous support, dedications and teamwork in guiding and leading our District.
Well, I am very happy and grateful for all your support and for elected me as the 1st Vice District Governor of the District 4-C4 for 2018-19, during our recent Annual Convention last May 3-6, 2018. Congratulations as well to our District Governor Elect Lydia Taylor-Bellinger and 2nd VDG Elect Fanny Chu. For the first time, 3 women Lion Leaders will be leading the District 4-C4 next year. We are looking forward to be a part of a strong Leadership Team that can sustain and grow Memberships, and can deliver quality humanitarian services to the diverse and multicultural groups.
Moreover, I would like to thank all the Lions Clubs Officers and Members that had attended and participated during our recent Annual Convention. Congratulations as well to all the Lions Clubs and Lions that received the Lions Awards this year. Great job everyone, you all deserve to receive the prestigious Lions Awards and we are happy for all of you.
I would like to extend my thanks and appreciation also to all the District Convention Committee Members led by PDG Jack Van Etten, for all your dedications, supports and efforts in preparing and coordinating a successful Convention event this year.
The recent Annual Convention is indeed, a very fun, enjoyable, successful and memorable event for all Lions that had participated during the event. For all the Lions that missed and unable to attend the Convention event this year due to personal reasons, health issues, work, family obligations and other priorities, we missed you all. Next year, we will all have the chance and opportunity again to participate during the next Annual Convention on May 2019. Well, we are looking forward to see you all during the next Convention event.
The District 4-C4 has 55 Lions Clubs, which are all actively involved in providing humanitarian volunteer services to the diverse and multicultural communities. Some of the Clubs projects includes the following: eye sight project, eye glasses collections, food distribution and feeding the hungry, health and wellness projects, diabetes awareness, cancer project, water projects, children and youth projects, preschool projects, educational and scholarships projects, students speakers contest, veterans projects, disaster preparedness, assistance to disaster victims, livelihood projects, and other projects.. I would like to extend my deepest appreciations to all the Lion Clubs Officers and Members, for the successful implementations of all your humanitarian projects and services. All the Club projects are very valuable, which improves the conditions of the needy and creates difference in the lives of other people. Congratulations to everyone for a job well done!
A strong Leadership is very vital in the success of Lions Club organization. The Lions Club International, MD4, and District 4-C4 supports the Leadership development and training of all Lion Clubs' Officers and Members. I encourage all Lions Clubs Officers and Members to take the opportunity to participate during the Lions Leaderships Training. Lion Officers and Members can learn valuable Leadership knowledge and skills at the Lions Leadership training and on-line classes. Future training opportunities for Lions includes the following; USA/Canada Lions Leadership Forum, Leadership Training in Columbus, Ohio on September 20-22, 2018; District 4-C4 Leadership Training on 5/19/2018; and On-Line Leadership Courses are available at the www.lionsclubs.org. Click on Member Center, and click on Leadership Development. For more Leaderships Training information you may contact institutes@lionsclubs.org
Well, together, we continue to serve with compassion, advocacy, empowerment and excellence.
Thank you and God bless everyone.
Lion Helen Ariz Casaclang